Sorority girls on Bid Day be like...

I'm here for a good time not a long time
Basically the theme of college: we're only here for 4 years so they've gotta be the best 4 years, right? Joining your sorority or fraternity Freshman year is pretty much a guarantee that these 4 will be some of the sweetest.
I

 can't really see another squad tryna cross us
Basically your pledge class anthem! You guys have a new squad and they will be your squad for your next four years. Bid Day is the greatest because you meet your squad.
I still ride with my day one
Just because you've joined different sororities on Bid Day, that doesn't mean you're not still friends with your High School friends and day ones. It's awesome that everyone's doing their own things and you can still be best friends no matter your letters!
Everytime you see me I look like I hit the lotto twice
100% chance of cheezin' in every single picture you take because you're so overwhelmed with happiness! You take pictures with girls you don't even know and then suddenly your BFFs! Can someone say #SweetMems?! 
Started from the bottom now we're here
Okay, not that recruitment is exactly the bottom, but it is a long week looking forward to a happy end: Bid Day!! We went through all the ups and downs and sweaty walks from house to house to get to this one day! Bid Day is our reward for getting through recruitment! 
I cannot see heaven being much better than this
You literally think it's heaven. The girls, the throwin' what you know, the letters, the presents, the food, the matching shirts , the hugs, the list goes on forever! You wouldn't change a thing and you're pretty sure it's the closest thing to heaven on earth, well besides like a room full of puppies and cheese dip! 
Make the most out of tonight, and worry 'bout it all tomorrow
Oh yeah, school starts like super soon, buutttt we're not worried about the fact that we don't even have a pencil yet because today is Bid Day and we'll think about that tomorrow! Of course school is why we're in college, but let's face it, our Chemistry books aren't gonna binge watch 'The Bachelor' with us-- right now all we care about is our girls.
Call me the referee because I be so official
Finally you can wear your letters so bring on the t-shirts, sweatshirts, headbands, koozies, fanny packs, hats, socks, toilet seat covers (probably), car stickers, literally you can put your letters on everything and you do! 
You the best I ever had
On Bid Day you look to the girls to the left and the right and you really see your sisters. You've gained 50-150 sisters that are gonna hold your hand through the good and the bad stuff that happens in college. You see your Bridesmaids, your best friends, and your dysfunctional family and you finally understand what Drake means by the best he's ever had.
Turn my birthday into a lifestyle
Bid Day is like your favorite birthday party you've ever had and then you get to keep celebrating it for the next four years. You get cake, presents, plus a new fam! What could be better? Bid Day is the party we want to have everyday, but that probably wouldn't be good for our health or GPA.
My team good, we don't really need a mascot
You're right, Drake, we don't really need a mascot, but that doesn't mean we don't want one! Whether you're pandas, angels, owls, teddy bears, burritos (?) you name it, you probably have about 100 new clothing items with your symbols on it! 
I'm way up, I feel blessed
We can't help but feel #blessed when we run to our sorority house lawn and breathe a sigh of relief because you're so happy. You look around and see your college family and there will probably be happy tears and definitely some screaming. We feel you, Drizzy, way up, we are blessed.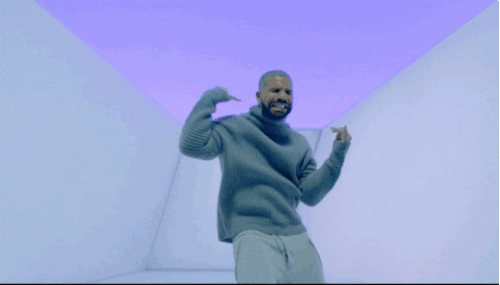 Give us a call on our hotline so we can help get your Bid Day swag in order :)