Meet Tyler! Tyler is a Senior in Kappa Delta at the University of Arkansas. She is a lover of dogs, razorback football and all things srat! Tyler is a marketing major and supply chain major. After graduation she wants to continue her education and get her MBA! Here is some SPOTLIGHT on Tylers college experiences! 
What is one of your favorite memories during work week?
"One of my favorite memories of work week is last year one day they dismissed us for dinner a little early, and a group of us walked to Tokyo for sushi."
Lets be honest. Sushi is a must during sorority work week. SUSHI DUH! 
Sushi was Tylers favorite memory but the reason it was her favorite was because she was getting to spend extra time with her sisters. "It's truly the only time of the year where we don't have tests or classes or RSO meetings to worry about and we can just be together."
If you could describe bid day using a song, which song would you use?
"If I could describe bid day in a song it would be Shut Up and Dance!"
She remembers last bid day being one big party when they were welcoming all of the incoming new members. She said dancing it out was a way of relishing the moment and enjoying welcoming all of them. Their moves looked a little something like this 
She loved bid day because everyone is so excited and wanting to give hugs and take pictures. Bid day is a day to make over 100 new friends. 
What was your favorite Big/Little reveal theme?
The year Tyler got a big they had a theme where the bigs hid behind sheets with only their feet showing and the littles had matching socks. They had to walk around the house and match their socks to the ones they saw behind the sheet. After everyone counted to 3 the sheets dropped and her big was revealed. She loved this theme because it made for really cute pictures with everyones fun creative socks! 
Tyler loved getting her big but she loves having a little even more. She loved passing on presents to her that she got passed down from generations before her. She loves the tradition of having a sorority family 
What has been your favorite college Halloween costume? 
Tyler loves Halloween because Kappa Delta has a special function called VOODOO where you get to dress up with your date and have coordinating costumes! This past halloween Tyler and her boyfriend went as Forrest gump and Jenny. 
She was like
and he was all like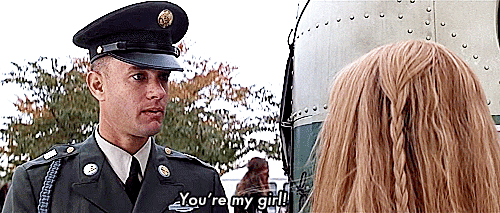 What is your favorite philanthropy event throughout the year?
Kappa Deltas philanthropy is Prevent Child Abuse America. Tyler's favorite way to raise money for this cause is their annual block party! She loves it because she loves being able to bring everyone on campus together for such a great cause and still have so much fun. The event had people grilling burgers for everybody and lots of music for everyone to enjoy. They all looked scary similar to this 
What has been your favorite spring break destination in college?
Spring break is one of the best weeks of the school year (mainly because it doesn't involve school). Tyler's favorite spring break was the year her and her sorority sisters went to South Padre Island, TX. They shopped, ate and laid out. What more could you want? Unfortunetely all of them got really bad sunburns and had to suffer through together 
Not only do you get a week off of school for spring break but you also get tons of new sorority t-shirts and tank tops for your vacation! Tyler compared spring break t-shirt passout to an Apple iPhone release. "So much excitement and so many people in one small space!" She said that t-shirt passout is the perfect way to kick off spring break 
What does the day of your sorority formal look like?
"The day of formal is kind of nuts! If you don't see sisters at the tanning salon, you all see each other while getting a pedicure. It's a lot of running around and making plans." 
Tyler told me her favorite formal story. Her and her sisters all got ready together and did each others makeup so they would look FAB for their dates. As soon as they were leaving to walk to the restaurant to eat it started pouring rain! They all had to run down the street barefoot to get there as the guys chased them with umberellas. She loved this memory because by this time they were all having so much fun that they didn't care how wet they were getting! 
What does finals look like for you?
"It's a lot of anticipation and dance offs at 2am. I like walking into the house and seeing that everyone has their stuff spread out on kitchen tables with chipotle bags, coffee, popcorn, and pretty much every kind of snack imaginable."
"It's funny because everyone is deliriously tired and about at their wit's end, but all it takes is one look across the table at your sisters and you all bust out laughing"
Tyler loves her sorority sisters and can't wait to take on one more year of college by their side!