2016 has been a crazy year and honestly that is an understatement. The best thing about crazy years? They make great Halloween costumes. Here's some ideas for those of you who have the hot date, but need the perfect outfit!
Damn Daniel and a White Van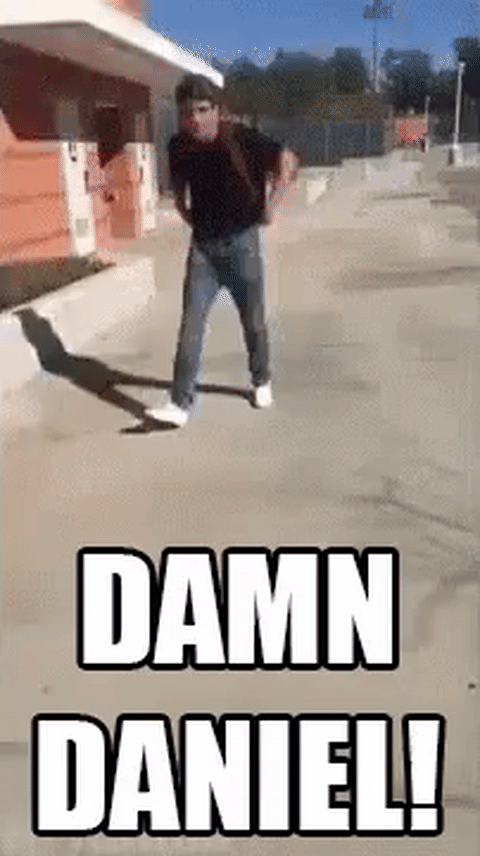 Do we know why snapchat videos of teenage boys saying "Damn Daniel, back at it again with the white vans" became so popular? We do not. But this kid made it on Ellen, got a lifetime supply of Vans, and has an international fan base. He's definitely worthy of a Halloween tribute. All you need is an attractive teenage boy and a lot of white clothes so you can look like a van. Or you could dress up like a van, that drives. People will recognize you and they will love it.
Donald and Hillary

Do opposites attract? Find out this Halloween. We can't guarantee that this is going to be the safest costume, but you'll get some attention for sure. People are going to have very strong opinions for or against you. Either way, you're going to need to age about 100 years. Donald and Hillary aren't traditionally friends, but everyone friends on Halloween, right? Forget your political views for a night and watch Trump and Clinton cut loose.
Kimye
Name a more iconic duo... I'll wait. You're going to need to pull the butt pads out for the night and some scandalous clothing. If you're gonna be Yeezy then you can pretty much go to any thrift shop and buy a plain t-shirt, poke some holes in it, and find a fur lined jacket, there you have it. If you're the Kim in this equation a spray tan might be in order, we can't all have that beautiful tangerine color all the time. If you can find a toddler and a baby you could have the whole West fam.
Pokemon Go
A phenomenon sweeping the nation. It's getting gamers and lazy people out of their houses and into the real world. A good costume for this one could be one person is a gamer before Pokemon Go (not super put together or showered) and a gamer after Pokemon Go (fit and wearing athletic clothes). Pokemon Go might just be the solution to all of our problems and it really might have been the best thing to happen in 2016. Let's honor it with an awesome Pokemon inspired costume.
Kenneth Bone and His Red Sweater
Welcome to the Bone Zone! Hillary or Donald didn't win the election-- Kenneth Bone did. His happy face, vibrant sweater, and great stache caught everyone's attention during the debate. The next day he went on air and admitted he wasn't originally going to wear the red sweater. Thank goodness he ripped his pants and the red sweater was a good backup. Ken and his red sweater will go down as the winners of the second debate and if you go with this costume, you'll be the winners of Halloween.
Leo and His Oscar
It finally happened. Our boy Leo won the Oscar he's deserved after all of these years. If it didn't happen this year people would probably riot in the streets. It's an easier costume than you think, get you a fella to put on a suit (okay, he's not going to be as good looking as DiCaprio, but work with what you've got) and then paint your entire body gold. It's as easy as pie!
A Clown and A Police Officer
Okay, 2016, are you done or are you finished? Another insane craze that's happening in 2016 is dressing up like clowns and chasing people. Basically everyone's worst nightmare. We don't know why this became a thing, and hopefully people get tired of it real quickly. Some towns are even banning dressing like clowns until after Halloween so tread lightly and be on your best behavior if you choose to clown around on Halloween night.
Snapchat Filters
2016 brought us some crazy weird things, but one thing we're grateful for when we just woke up with our hair a mess and makeup smeared everywhere, you can still Snap bae. Thanks snapchat filters! Just turn yourself into a cute puppy real quick and your boo will think you woke up like that. With the help of makeup and a little bit of props will give you that #filtered look all night.
Srat Star and Frat Star
All you frat stars and srat stars out there don't have to go too far out of your way to have a bomb Halloween costume. All it takes is some American flag shorts, some Raybans, and one of our fratty Houndstooth Press tees. Or if you're a boy and you wanna show your favorite Srat some love, head on over to the Press and we would love to give you srat tanks, sorority hats, even some sratty socks. We literally have you covered from head to toe in greek clothes. Raise your solo cup to a sratty and fratty Halloween!
Harambe and That Kid 
RIP to our favorite gentle giant, Harambe. He is an angel looking over America during this hard time. If you want to honor his life, you can dress up like him for Halloween. People will probably cry at your feet. It's not easy to lose a loved one, but Harambe's memory will live on for centuries to come. 
The best thing about having the most bizarre year in a long while, it gives us some good costume ideas. 
Happy Halloween from The Houndstooth Press!