Here's two things we know: we love The Office and we love $100 giftcards. One thing we aren't sold on is Valentine's Day... let us sell you on it!
Share this blog on Facebook and Twitter using the share buttons at the top of the blog and you could win $100 to use on The Houndstooth Press website or in store

!
Dudes: if you're single on Valentine's day-- no shame. No one in your fraternity is going to be making fun of you when you have your $100 giftcard. Ladies: same thing. No shame in the single game. Beyonce even wrote a song about you! All your sorority sisters will be jealous when all they got was a dinner at Applebee's with their boyfriend and you're rolling in your free stuff!
Whether you are celebrating Single Awareness Day or having the best day ever with your boo thing-- there's an office character just like you. Which one are you? 
The "Michael Scott"
 You love... love! Even if your relationships aren't always successful, you never give up on love. Valentine's Day is just another reason to annoy everyone with your love and affection. You're the little office Cupid and brighten everyone's day. You're probably the one bringing personalized cards and candy-- and for that, we are all grateful. Never change. 
The "Angela Martin"
So basically everything I just said about Michael Scott repulsed you. Valentine's Day is not. your. day. You are uninterested in the unhealthy candy and cheesy cards. You think everyone spends way too much money on pointless gifts. And you delete all social media accounts for the day so you don't have to see loving posts. Remember: it's okay to not love Valentine's Day.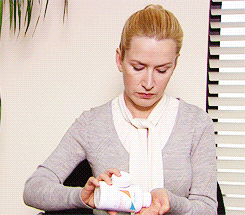 The "Oscar Martinez"
Valentine's Day is a social construct. You are fully aware that Valentine's Day has nothing to do with a saint, and was created by Hallmark to sell cards and chocolate/flower/jewelry companies aren't complaining either. Even though you think it's a little overrated, you still expect a nice dinner with your boo thang. You may be a realist, but you still love presents! 
The "Jim Halpert"
Face it! You're a hopeless romantic. You act tough on the outside, but you've probably been planning this Valentine's Day since last Valentine's Day. Everyone at your significant other's office will be asking what thoughtful gift and magical evening you planned this year. You understand that it's not about spending the most money or eating at the nicest restaurant. It's about celebrating love! 
(Ok, probably went a little overboard. You can't just pick one... I might be a hopeless romantic.)
 The "Kelly Kapoor" 
Oh, sweet girl. Valentine's Day is gonna be a weird one for you and your boo. Because he might not be your boo... but he might be! But he might not be! But you know as well as anyone that Valentine's Day is the perfect day to ask that romantic question-- "what are we?" I cannot guarantee this conversation is going to be one you like, so just keep in mind that Valentine's candy is half price February 15th! And your dentist and bank will always love you, so count on a card from them. 
 The "Dwight Schrute"
So odds are you are capitalizing on people's desperation to make this the best Valentine's Day yet. You find the hottest Valentine's Day spots in town and rent them out. People are like "Wow, you're so romantic!" and you are like, "False." You rent these places out so people have to call you and beg while you dangle reservations over frenzied boyfriend's heads. Is it mean? Maybe. Is it worth it? Yes. If Hallmark is making money off of this day of love, so should you. 
Whoever you are on Valentine's Day, The Houndstooth Press loves you a lot!
For the perfect Valentine's Day gifts check out our custom t-shirts and our unique embroidery items! 
Trust us on this one-- she'll love it. 
Happy Valentine's Day! Love, The Houndstooth Press.