Monica Geller: Chi Omega
This is the girl everyone needs in their life because her life is so put together! Monica is talented and extremely goal oriented just like her Chi O sisters. She's the girl you'd find in the library studying like crazy because she wants the highest GPA, to be involved in the most student organizations, be the most involved in her sorority, be a great friend, and also actually enjoy college-- she's the person that can do it all. You'll want her as the captain of your intramurals team and in charge of your philanthropy events because she's organized and competitive.
Because she knows how to work so hard, she definitely knows how to play hard and you will definitely want a Chi O as your dance party partner! She can and will do anything she puts her mind to. Monica kicks butt just like Chi Os and she keeps her hair perfect while doing so.
Rachel Green: Tri Delta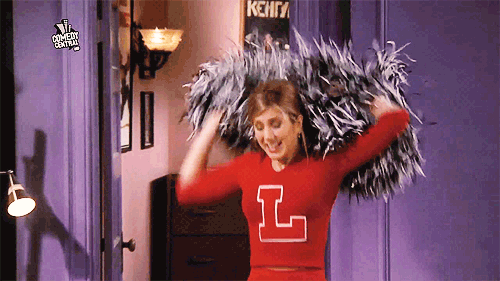 Rachel's sporting the yellow and blue on Bid Day! Just like Tri Delts Rachel Green is a ball of energy and fun. But she isn't just about fun, she works hard for everything that she has. Rachel is a loyal friend and will never leave her girls, just like the Tri Deltas who value sisterhood so much. You always will go to Rachel for advice, a shoulder to cry on, or someone to make you laugh (because let's face it, she's a goofball.)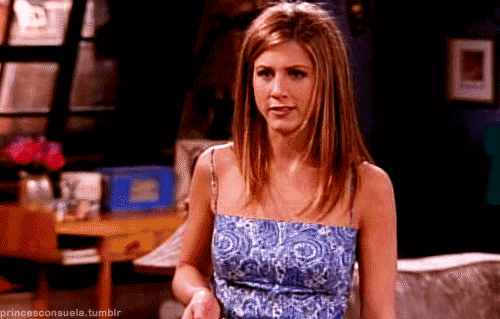 She's extremely sentimental and will always make her besties feel better when they're sad. But she's definitely not afraid to sass someone or stand up for herself. Who wouldn't rush, Jen An, am I right?
Phoebe Buffay: Pi Beta Phi
Can anybody say "Free Spirit?" This girl is doin' her own thing and you love her for it. She fits in at Pi Phi because she is basically a unique, goofball. She isn't afraid to be herself. She is passionate about the things and people that she loves and she will do anything for you. Pi Phis will always be there to pick ya up when you're down, just like sweet Phoebs.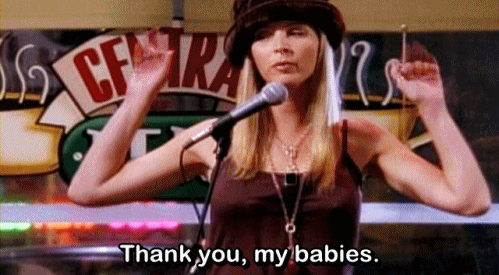 She'll always follow her dreams, even if her dreams are to sing "Smelly Cat" in a coffee shop. She believes in herself and doesn't care what others say because she has awesome friends that believe in her too. Everyone needs some Phoebe to keep life interesting.
Chandler: Phi Delta Theta
The Chandler Bings of the world are probably your best friends. Their sarcasm, hilarious commentary, and all around chill persona makes you wanna hang out with him. He's a guys guy and has some extremely close friends. He's always down to do literally anything and isn't gonna judge you when you suggest Pokemon Go-ing around the city at 2 AM.
Just like Phi Delts, you're not going to get sick of this guy. You can hang out with him for days on end and will never be bored. If you have to be stranded during a snow day, hopefully you can get to the Phi Delt house and hang out with all the Chandlers of the world.
Ross: Beta Theta Pi
Everybody loves the nice and funny guy, that's Ross and that's Betas. Just like Ross he's into his job and hobbies, Betas are passionate about the things they like. They might not be as nerdy as Ross, but I bet at least a few Betas like Dinosaurs. These guys will always be there when you need them, no matter what time of day. If you need some reliability in your life, hit up a Ross or maybe a Beta, or even better a Beta named Ross. What could be BETA than that? *wink*
This is the guy that'll come over when his friends are having a bad day and cook up some fajitas and just chill. Just like Betas, you'll want this guy around to help you with your homework and keep ya laughing.
Joey: Kappa Sigma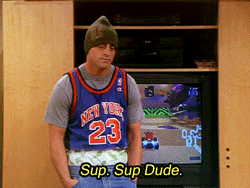 Hey! How you doin'? If you're looking for a chill guy, look no further. Everyone needs a Joey because he will be your pizza partner whenever you need a pizza partner, same with Kappa Sigs. Need a concert bud, find a Joey or a Kappa Sig. They are just down for whatevz. Food is probably the number one bond between you and a guy like Joey, but those are the best friendships, are they not? If you want to watch a sports game, head on over to the Kappa Sig Castle and chill out, maxin', relax all cool. The Joeys in your life will make all your days brighter with their sense of humor and love of pizza.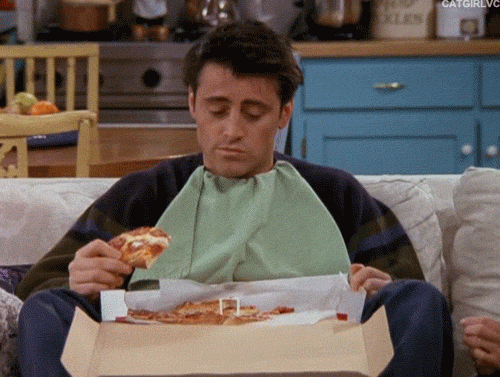 Whatever house, whatever "Friend", you need 'em all to make a University (or TV show) great!
Never forget, we'll be there for you.