In some states the calendar says February and everyone's sitting outside in shorts like...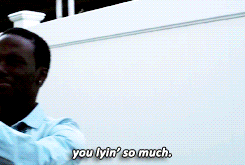 And in the states that don't get snow days because it snows eleven months out of the year are like...

And then there's this lady who literally almost blew away in Chicago...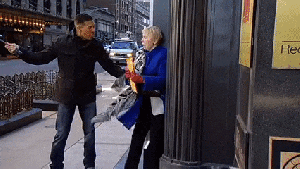 Basically the weather's nuts and everyone's confused- here's something that's not confusing, Houndstooth Press fleeces.Check out these styles for those who are cold right now and those Southern states who will probably be cold in late March because it randomly decided it wanted to be cold.  
Like what you see? We hope so! You may have been distracted by the caramel apples or cute people and not remember exactly what your sororities newest fleece is going to look like! 
Here's the run down: 
Devon & Jones Men's Bristol Sweater Fleece Half-Zip
So fresh, so green! These are possibly our favorite fleeces ever invented. The perfect weight for a chilly day and looks adorable layered! It comes in seven different colors.
Port Authority Sweater Fleece Jacket 
Why be blue when you can just wear blue? Em's rockin' this full zip with a beanie to rule them all! 
Harriton 8 oz. Quarter-Zip Fleece Pullover

Loving (this half-zip) is red! Make Taylor Swift proud and pull out this red fleece. 
Port Authority Sweater Fleece Jacket 
Tanner's got the Pi Kappa Alpha version of our sweet Em's blue fleece! It looks great on boys and girls. The perfect jacket for everyday! 
Sport-Tek 1/4 Zip Sweatshirt 
Classic comfort! This cozy pullover a staple piece every college kid needs in their too small dorm closet! 
Harriton 8 oz. Fleece Vest
The vest of the vest! Whether you're layering the vest over a long sleeve t-shirt, short sleeve t-shirt, or sticking with just a vest (daring, we wouldn't recommend this) you'll look great! 
Bella + Canvas Unisex Sponge Fleece Crew Neck Sweatshirt
Stripes on stripes! This heathered Zeta Tau Alpha sweatshirt is perfect to slip on and run out the door. You'll look cute without trying-- which is like everyone's goal in college.
Harriton 8 oz. Quarter-Zip Fleece Pullover
This caramel apple isn't the only sweet thing in this picture! Your sorority or fraternity's crest is the perfect design for these comfortable pullovers.
Port Authority Digi Stripe Fleece Jacket

Show off that gym (or macaroni) bod with this jacket that's less bulky! This lightweight jacket is perfect for the transition from winter to the warmth of spring! 
Columbia Ladies' Harborside Fleece Pullover
Snap buttons are back and better than ever! This bright pullover will brighten up your day!
Columbia Men's Dotswarm Half-Zip Fleece Pullover
Fresh to death. Stay the flyest guy and get one of these embroidered Columbia pullovers!
Port Authority Sweater Fleece Jacket
Abby's all snuggled up in her Kappa Kappa Gamma Zip-Up! Pair it with a slouchy beanie and you're effortlessly chic! 
Columbia Men's Cathedral Peak Full-Zip Fleece Vest/

J America Vintage Long-Sleeve Thermal T-Shirt

How vestive! Everyone in your fraternity wants a vest, even if it's a basically just a jacket without sleeves... college kids love them! The red thermal will keep ya toasty by the fire.
Port Authority Ladies Digi Stripe Fleece Jacket/Adams 6-Panel Low-Profile Washed Pigment Dyed Cap
Let's get digital! This jacket is the perfect weight to wear everyday and this Kappa Delta jacket is the women's version of the blue Kappa Sigma jacket you saw earlier! Pair it with your favorite ball cap and you're sporty and sweet all at once!
Comfort Colors Adult Heather 1/4 ZIP Sweat
Keep it classy in a Comfort Colors fave! 
Columbia Men's Harborside Fleece Pullover
This Beta Theta Pi pullover is perfect for any guy (or for a girl that wants to steal her boyfriends pullover!) 
Bella + Canvas Unisex Poly-Cotton Fleece Pullover Hoodie
Could not get any comfier! This Dad's Weekend sweatshirt every daughter is sure to love.
Bella + Canvas Unisex Lightweight Sweater
You'll be the envy of everyone you know because you'll be the comfiest girl on the whole campus! We love the baseball styled sleeves that keep the look laid back!
Bella + Canvas Unisex Triblend Full-Zip Lightweight Hoodie
See that bright yellow Zeta Tau Alpha shirt? Now see that jacket? Yeah, that jacket rocks. Perfect over t-shirts of tank top and you can wear it from the summer time to winter! 
Alternative Ladies' Powder Puff T-Shirt

Last but not least, fab Abbie in this red and gray jersey shirt! Stay sporty, stylish, and comfortable! You'll never want to take this off. 
We hope you found your perfect fleece match, like Jim and Pam did!