Just a day in the life...
If you've ever wondered what a day as an intern at The Houndstooth Press is like, here's a little insight into how we run this place. And who better to describe it than our second favorite group of coworkers- The Parks and Rec fam. 
When your boss asks your advice on something...
Most days you're like...
But sometimes you do something right and your boss is like...
And you're like...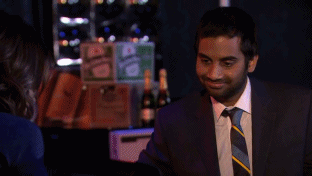 But you try to play it cool like...
And sometimes you attempt small talk with your boss and you're just like...
But your boss is super cool and lets you listen to music...
So your day is 80% fighting the urge to dance...
And every time a new intern starts you get a pizza party and it's the best day ever...
And on the occasion you actually dress up for work you're like...
When all of the other interns bring salad for lunch and you're like...
And then you try to fit in and be healthy and it's terrible...
And they put the candy bowl directly in front of you on your desk...
And you spend all day resisting the urge to eat all of it...
But somedays you just have to...
And hopefully someday these internships will help us get careers...
When your logo is a dog and there's dogs in the office and every other post on The Houndstooth Press' Instagram contains a dog...
And suddenly your coworkers are your weird dysfunctional family...
And you know you can do this internship because...
And we're all in this together...