T'was the Night Before Bid Day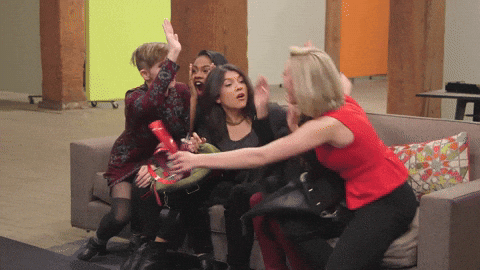 T'was the night before bid day, when all through the sorority house
No sisters were stirring, not even a mouse.
The bid cards had been signed by the recruitment chair,
In hopes that potential new members would soon be there.
The potential new members were snuggled in their beds,
While visions of bids danced in their heads.
Our house mom in her robe and I in my pajamas,
Had just settled down before all of the drama.
When the sun rose the next morning,
Sorority row was covered in people without much warning.
Out of my bed I ran real fast,
Downstairs it sounded like they were having a blast.
The sun was shining down on our decorated lawn,
As I heard shouting from beyond.
When what to my confused eyes should see,
My entire chapter house decorated to a tee.
When down the street there came a loud roar,
And I started counting girls running by "one, two, three, and four"
The frat boys standing by started to cheer,
And this is what our house mom had begun to fear.
My sisters on the lawn started calling the new members,
"On Macy, Tracy, Leah, and Kimber!"
To the house they flocked,
As all of the onlookers gawked.
Hugs were given and screams were heard,
As I stood in awe but didn't say a word.
The letters in our yard made me proud,
As I could see them standing tall through the crowd.
And just like that excitement was easing,
What a day it had been, much to my pleasing.
Our sisterhood had grown,
And I knew right then I would never be alone.