Just like the Parks and Rec squad, your sorority needs it's one-of-a-kind members to stay afloat... Which character are you and your sratty sisters?
The Leslie Knope: The Involved One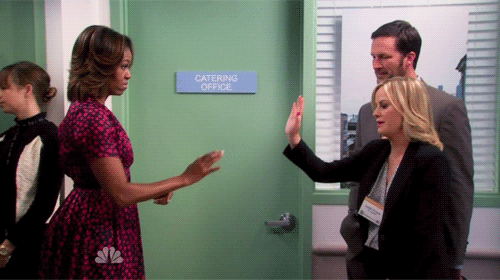 Basically what you want to say to this girl is: stop being better than us at everything! She is the first of your sorority sisters to sign up for the philanthropy event or to pick you up when you're stuck walking from to the house from class in a rain storm. She actually enjoys being so involved. This girl is the Leslie Knope of everything she does and she'll always be there for her girls. We imagine she'll high five Michelle Obama at some point in her life.
The Ben Wyatt: The Smart One
This is how the smart sorority sister walks into the house after you get top GPA. Like Ben Wyatt they think math is fun (???) and they will help you pass Stats, pinky promise. They may seem like a know it all, but they're just smart. Sometimes a little nerdy, but you'll always want them in your group math project or on your trivia team. 
The Chris Traeger: The Athletic One
This girl is the reason you hear the treadmill going at 5 AM. How does someone actually enjoy working out this much? Whenever you need to get motivated this is the friend you call. Need a Zumba partner or someone to eat a salad with, call your athletic sorority sis. They will *literally* motivate the crap out of you. 
The April Ludgate: The Mean One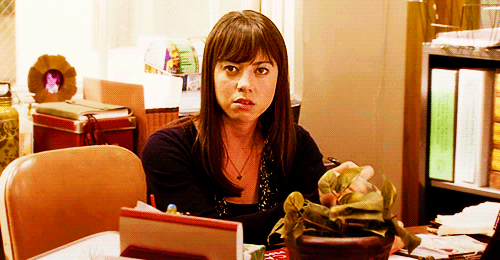 Believe it or not she's actually kind of a softy, but she makes sure no one knows that! She's the girl you want as head of your intramural team because her competitive streak will bring home the 'W'. Many girls are intimidated by her, but once they get to know her she becomes their best friend. People are drawn to her honesty and hilarity. If you ever need someone to have your back call your April Ludgate srat sister. 
The Andy Dwyer: The Happy One
Has this girl ever been in a bad mood? Literally she has not. Her blind optimism turns even the longest rush practice into an ab workout from laughing so hard. She may be clumsy, disorganized, and not exactly sure what she's doing--like Andy-- but your sorority wouldn't be complete without her. You need her antics to keep the peace and to keep life interesting. 
The Lil Sebastian: The Popular One
The girl in your sorority that everyone knows. If you say "Oh, I'm a Kappa Delta" this is the first person people ask about. No one's exactly sure how she became so famous in throughout the sorority, but PNMs know her name before they even walk through your door. She doesn't let the fame get to her head, she mostly just frolics around, eating grass (actually, she probably doesn't, but we're trying to relate her to Lil S... but who knows, maybe she does.)
The Ann Perkins: The Nice One
Hello, sweet friend! The Ann Perkins of your sorority is probably one of your best friends. This girl will go out of her way to help you in anyway you need. You need someone to grab your shirts at T-shirt pass out? She'll grab those shirts. You need Scantrons before a giant test? She'll run them to you across campus. Sweet sister, we don't deserve your kindness, but thank goodness we have you.
The Tom Haverford: The Innovative One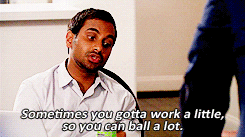 Odds are this person came into your sorority and changed the game. You have a new way you do your recruitment and it's faster and better than ever. They understand like Tom that sometimes you have to work a little so you can ball a lot. This is the Business major in your srat and all the business majors that follow in her footsteps hang on to her every word of advice about B-Law. This girl probably created your sororities app and you owe all of the technological advancements to her.
The Donna Meagle: The Sassy One
This is the face you want to see when stuff hits the fan. She sets the tone for how to react to all the crazy that occurs in a sorority. During Recruitment her face is your one saving grace that reminds you not everyone has lost their mind. She always has a sassy comeback and won't put up with any crap. She's also your go-to for guy advice and when you need some convincing to "treat yo'self" after a long day, she's there to grab those mani-pedis with you. 
The Ron Swanson: The Boss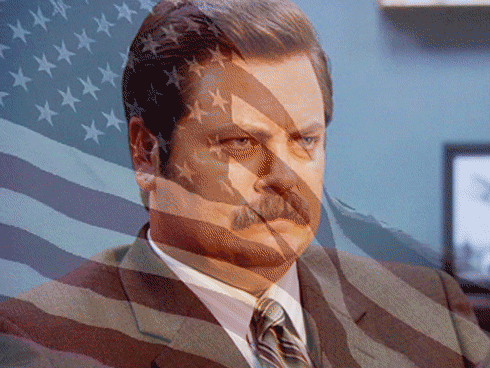 Every group needs it's fearless leader. The Ron Swanson's of the sorority world are usually the Recruitment Heads and the Chapter President. If you have either of these jobs you are a very specific type of person that can handle the stress without batting an eyelash and lay down the law when necessary. Similarly to Ron, these girls probably consume an unhealthy amount of breakfast food due to the all-nighters trying to keep everyone's stuff together.
Just like Parks and Rec needs all of these people to keep the Parks Department running in perfect chaos, you need all these girls in your sorority to keep your crazy running smoothly!