The Responsible One Also known as the "Exec member" and answerer of all sorority related questions. What time do we have to be at the house? Do we have to wear our letter shirts? What's for dinner? They've got the answer to all of those questions neatly color-coded in their planner. They really fight the urge to scream "IT'S IN THE EMAIL!" every time someone asks a question, but they are much too poised. They have every right to be their own role model because they keep your sorority up and running.
The Comic Relief
Hard night of studying? Just got broken up with? The kitchen ran out of chicken fingers before you got there? This is the girl in your sorority that is guaranteed to make a bad day better. She's constantly sending ugly selfies and quizzes to find out which type of meat you are. Her stories from all her wild adventures and awkward encounters with cute boys. She probably fell up some stairs today, so check the GroupMe for this girl's escapades if you need a laugh.
The One That Always Asks Questions
So you're basically clueless. It's not your fault you just never read the emails, go to chapter, or check the Facebook wall for any updates. This is going to be the girl that asked "Wait, when is Initiation and what am I supposed to wear and what time is it and do I have to go?" About 1/5 messages in the GroupMe is this poor lost soul asking questions. Sometimes the questions have absolutely no relevance to your sorority at all, sometimes it's "hey, where did I put my keys?" and "what time do I have class today?" Someone get this girl a planner and a personal assistant. Don't worry, she'll thank her sisters someday for getting her through college.
The One Who Uses The GroupMe Too Much
Okay, all you Office fans, we know this is not Mindy Lahari from The Mindy Project and is, indeed, Kelly Kapoor from The Office, but it was too good not to use because we're all Kelly sometimes. This girl is definitely the most active member of your GroupMe and that doesn't even mean she's the most active member of your chapter, she just really likes to talk. Yeah, sometimes it's useful information that everyone needs to know, but usually it's just what she ate for lunch or her whole schedule for the week. She just loves to share, share, share! If you are a really good listener, there's a big chance this is your BFF.
The Ghost
This is the girl that is always watching, always listening to the gossip, the hilarious memes, and the information about all the sratty things you talk about, but she's definitely not the one sending anything. There's a large possibility she has the GroupMe on mute, but you can't really blame her when there's over 180 messages in like 2 hours. Catching up on everything that happened in the GM at the end of the day is one of her favorite past times, but ultimately she stays in her lane and stays out of your messages.
The Crazy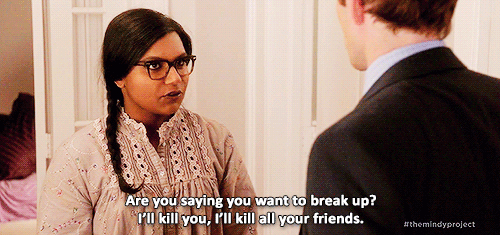 Oh man, you can't wait to see what story this gals got this week. She and her boyfriend are always, without fail fighting and she wants you all to be on her side. Of course you're on her side, but you've gotta give it up to her boyfriend for sticking around through all of the crazy. It never fails that her teachers or her mom or her dog are ticking her off and she is just livid. You love this girl and all of her crazy because she keeps everyone's lives interesting.
The "Wait I Totally Forgot You Were In Our Sorority" One
Okay, your reaction probably isn't quite this mean when this girl comes out of the woodworks, but honestly girl, where have you been?! You probably haven't seen her since you were initiated freshman year and you wonder how she always gets out of everything. She will randomly say something in the GroupMe like every 6 months and everyone in your pledge class responds immediately with messages like "you still go here?" and "then only way I keep up with you is through Instagram!" Hey, there's no better way to stay unproblematic than remaining low-key AF.
Whichever girl in the GroupMe you are, it wouldn't be the same without ya.
How long is too long to keep using your Sorority Pledge Class GroupMe after you graduate college... asking for a friend!
SaveSave