Fraternity History

Delta Tau Delta, sometimes fondly known as Delt, was founded in 1858 at Bethany College in northern West Virginia. It began as the Neotrophian Literary Society, but because another organization controlled its activities, the society was not allowed to grow or help men develop and demonstrate skills. In response, eight collegiate men sought to wrest control from the students running the competing organization. They began as a somewhat secret society known only by the letters Delta Tau Delta. Truth, courage, faith, and power were their original principles, and they remain the principles of the fraternity today.

Currently, Delta Tau Delta has more than 130 active chapters and colonies on almost 200 campuses. It boasts more than 165,000 lifetime members.
Delta Tau Delta Symbols and Insignia
The Delta Tau Delta colors are royal purple, white, and gold. Its flower is the purple iris. Its coat of arms is designed strictly after the heraldry of the Middle Ages and includes a shield, charge, torse, and crest. Delta Tau Delta's shield, or field of ordinary, is divided into four areas with four different charges, the meanings of which are explained at initiation ceremonies. The torse is a twisted rope in the three official colors and is displayed above the shield. Delta Tau Delta's crest is an eye radiated in glory.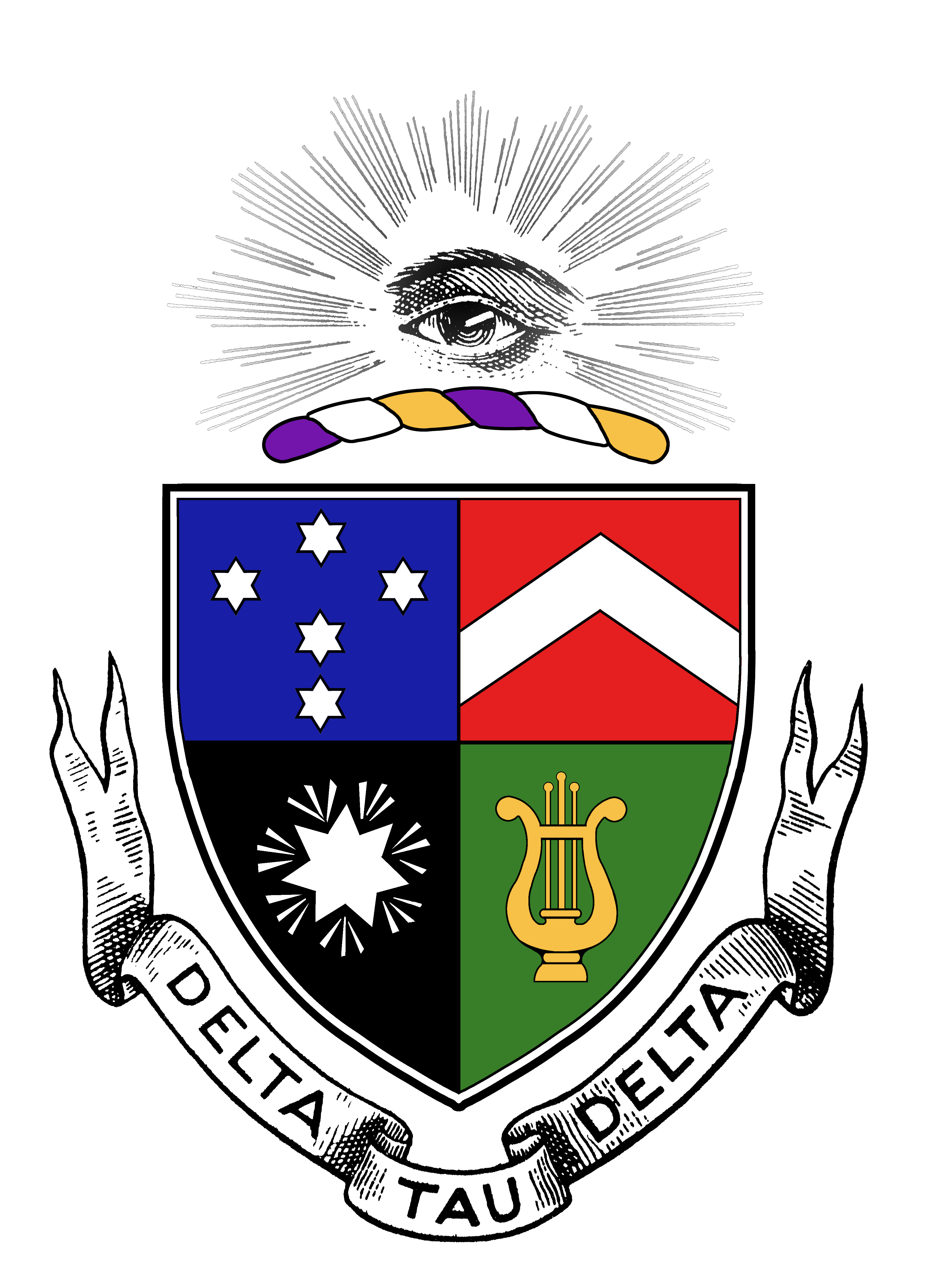 The Delta Tau Delta badge is emblazoned with the fraternity's Greek letters, as well as a star in each corner, a crescent moon at the bottom, and the Delta Tau Delta crest at the top. According to DTD bylaws, the members cannot wear the badge on athletic clothing, the lapel of a suit coat, a shirt without a collar, or uniforms. The badge is to be worn only on collared shirts or sweaters, and only over the heart.
Delta Tau Delta's Road
Delta Tau Delta is known for its Road, or the four sections of each brother's college journey. A brother participates in the Road from the day he accepts a bid to join to his graduation. The four sections are new member education, recruitment education, ritual education, and member education. Some sections, such as ritual education, are divided into monthly sessions. Another part of the Road, the Journey to Excellence, is not mandatory but is highly encouraged.
DTD Academics
Delta Tau Delta has a strong academic emphasis. Each chapter has an academic officer, known as the Arch Chapter, and brothers are required to have at least a 2.5 GPA before initiation. Many brothers are Kershner scholars, distinguished students with no less than a 3.5 GPA. Kershner scholars are eligible for the associated scholarship program.
If you need fraternity-approved Delta Tau Delta gear, contact Houndstooth Press to see your options.
Sources:
http://www.delts.org/scholarship/