Alpha Gamma Delta Fraternity History
Founding members established the Alpha Gamma Delta fraternity for women in 1904. Eleven progressive ladies gathered on May 30 at the home of Syracuse professor Dr. Wellesley Perry Coddington to set the foundation for Alpha Gam. Since that date, the group has grown tremendously, drawing in members with its aim to provide opportunities through sisterhood. Today, the society spans nearly 200 colleges and over 160,000 women. Alpha Gamma Delta offers lifelong involvement and support, emphasizing "living with a purpose" in its mantra and social activities.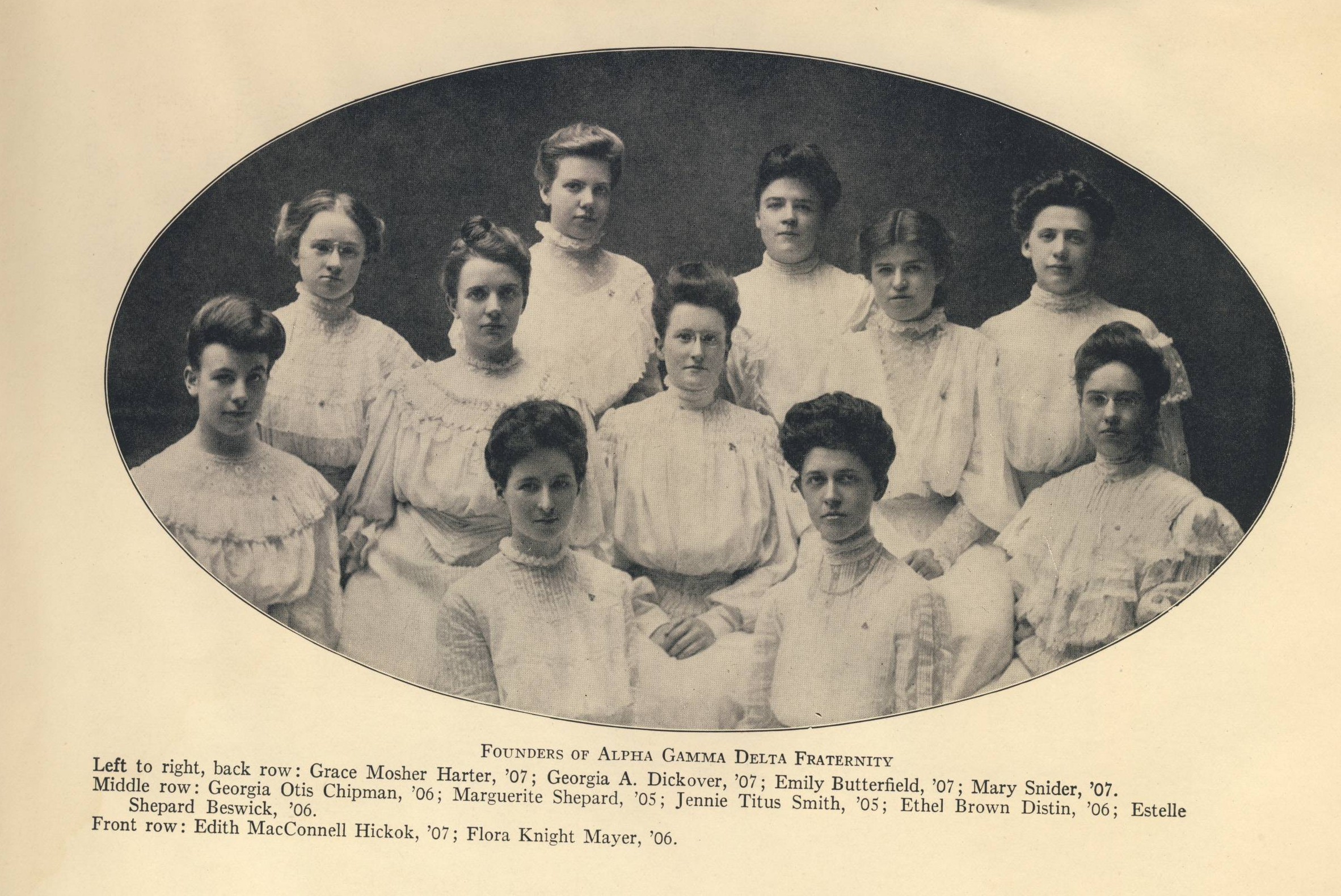 Alpha Gam has its own publication, "The Alpha Gamma Delta Quarterly," that offers information about the group to members and alumnae. Outstanding sisters also receive special recognition through these issues.
Theta Sigma Upsilon (originally Sigma Society) was once a separate group, established in March 1921. It added additional letters as it entered the national level on that day. After 38 years, Alpha Gamma Delta absorbed the group and it ceased to exist. This was largely due to its similar ideas and progressive nature.
Their Symbols
Most social groups use a crest to represent them. Interestingly, the women of Alpha Gamma Delta have no official symbol. They chose a flower, colors, and jewels, however, and you may recognize an ΑΓΔ sister in this way. Red and buff roses combined with green asparagus plumosa ferns create a beautiful blend of shades. Delicate pearls complement the flowers and also represent the fraternity.

There's a mascot too: Skiouros the squirrel. The women's fraternity selected the animal in 1915, and chapters across the organization accepted it. The fact that he symbolizes "energetic alertness and progress" goes well with Alpha Gam's mantra for purposeful living.
You can find sisters wearing an elegant pin on their clothes to signify their membership. The base of the badge is a large Delta, which an intricate Gamma supersedes. The Alpha sits atop both of these. Sisters may wear the three-dimensional design plain, inlaid with pearls, or with pearls and diamonds. Most pins are made of gold, though they may be found in silver as well.
Giving Back
One of the purposes of joining Alpha Gamma Delta is to impact the world. Members contribute to society through philanthropy that focuses on diabetes awareness. Because this disease affects millions of people, it's often a personal pursuit for these sisters. The group works through two other organizations: The American Diabetes Association and the Alpha Gamma Delta Foundation.
The American Diabetes Association has been around since 1940. Although based in Alexandria, Virginia, there are nearly 100 offices across the nation dedicated to preventing and healing diabetes. The ADA has invested more than $735 million in the pursuit of a cure. Following the partnership with Alpha Gam, fraternity members have taken the opportunity seriously. Events are organized across the country that help provide information and gather funds for the cause.
The main philanthropy of Alpha Gamma Delta, however, is still the foundation that shares its namesake. The Alpha Gamma Delta Foundation, established in 1962, works diligently to offer information and resources to those the disease affects. The belief is that everyone deserves a self-sufficient life that's rich in opportunities for advancement, particularly in education. Women who graduate college make 70% more than those with only high school diplomas, so the foundation seeks to provide more opportunities for scholarships.
Aside from the focus on creating new chances for women across the nation, the Alpha Gamma Delta Foundation is also there for families in need. From the money that's gathered through events and fundraisers, Alpha Gam gives back to members through "sister grants." These funds meet emergency financial needs when it counts.
Juvenile diabetes is especially important to the foundation, as it can be hard for children to understand why they're "different." The organization provides money to individuals and organizations when their purpose is to help spread education, awareness, and hope.
Show Your Pride
Houndstooth Press has been crafting incredible custom shirts for more than 20 years. If you're ready for a custom design to show off your Alpha Gam love, give us a shout or find us online. Our team of talented designers will create the perfect graphic, whether it's for a special fundraising event or just to show some pride.
Sources:
www.alphagammadelta.org/