Katie Couric is known for hosting all of the most well-known television stations. Before her fame Katie was a student at the University of Virginia where she became a Delta Delta Delta sister! Here are 9 of Katie Couric's reactions to her sorority chapter meeting.
When the chapter's standards committee told the chapter that they couldn't go to frat house for the first two weeks of school
I've already lost a year of college. How do you think I'm going to meet my husband if I can't go to the frat houses?
When the chapter president told her that homecoming prep hours are doubling this year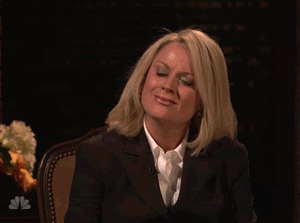 how am I supposed to go to class, hang out with my friends and pomp for 80 hours a week?
When you get called out in chapter and asked if you were the only one who didn't dress up for formal Monday at school?
And then you're told you can't go to the first function because of it
When you're asked to come speak in front of the chapter and you're so nervous
but you try and cover up your embarrassment with a smile
when you're voting on the new house boys and you have to give you opinion
that's all that matters right?
When your chapter is talking about what is OK to wear to the Halloween function and was is not OK
this is appropriate right?
When you have to leave early for a "group project" but really you're just trying to make it to your apartment on time to watch The Bachelor