When it comes to functions, you always want to come up with the cleverest costume to match the theme. However, being a college kid means ballin' on a budget, so sometimes you just can't buy that $50 Halloween costume on eBay. Here are some cheap alternative costumes that won't break your bank.
Throwback
Whether you're throwing it back to the roaring twenties or just reliving your 90's childhood, throwback is a theme that continues to prevail as a crowd favorite. If you choose to relive that late 1990's/early 2000's angst you're going to need a flannel shirt, your band tee, and Avril Lavigne on repeat. If you don't own a flannel shirt, chances are you have a dad that does. Even though you thought you'd never say this, you're going to actually want to raid your parents closet when looking for a function outfit because it's free. It especially comes in handy when you have themes like 80's night and you need some of mom's old workout leggings and windbreaker. Your parents are going to love you for saving money and you're going to love them for giving you a unique vintage outfit.
Switching Roles
This is always a winner. Sorority girls come dressed as fraternity guys and vice versa. For the girls all you have to do is put on a button up shirt, backward cap, maybe even draw on a fake beard. Don't forget to add the sunglasses even though you're inside all night. For the guys you can put on any oversized letter t-shirt and leggings and you'll be perfect. But guys, don't forget to throw what ya know!
Movie Night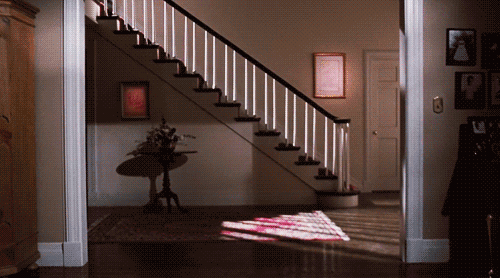 For a movie themed function there are a million different ways to go about it. However there are some roles that don't require much of a costume at all and will still be easily recognized, like Risky Business. There's nothing risky about this costume as far as your wallet goes. All it requires is an oversized button up white shirt, some socks and sunglasses. Another great costume for movie night would be dressing as Holly Golightly from Breakfast At Tiffany's. All you need for that costume is a black dress and some pearls. Put your hair up in a fabulous bun and you'll have a costume even Audrey herself would be proud of.
Jersday
C'mon, what's easier than putting on a jersey? Don't worry, if you weren't athletic in high school or aren't even remotely interested in sports, you're not left out of this theme. If you don't own a jersey, chances are you can probably find one cheap at a local thrift shop. (Go ahead and sing that Macklemore song.) Places like Goodwill are the perfect college one-stop shop for function costumes. It's also a good option because you'll most likely use the jersey more than once during your time at college.
Greek
Why not just embrace being a literal Greek? If you need a last minute costume, this is it! You can just grab the sheets off your dorm bed and wrap them around you and bam! Instant Greek God/Goddess in seconds. If you need a little help on just how to wrap your toga, there are plenty of videos on the Internet to help you with that. It's super easy and didn't cost a dime. You're welcome.
Jungle
This is a great function because there are a lot of different costume options. For a guy, a popular option would be dressing up to look like a cast member of Jurassic Park. All you need is kaki shorts, a button up shirt, and a bandana to tie around your neck. It wouldn't hurt to throw in the jungle hat as well if you have one. For the girls a cheap option would be dressing as a lion in the jungle. To make this costume you need some ribbon, yellow and brown tulle, and scissors. All you have to do is tie the tulle around the ribbon and make two tulle skirts, one small and one big. The bigger one needs to be able to fit around your waist and the smaller one has to fit around your head like a lion's mane. All that's left is drawing on the nose and whiskers with some black face paint or eyeliner.
Get ready to be the Beyonce of your next function while still having a few dolla bills left to your name.